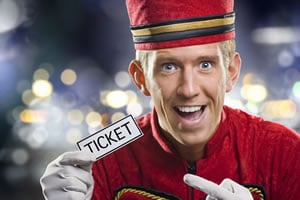 At New Year's Eve our passion is to provide information on the best events and to provide ideas on what to do for the biggest party of the year. New Year's Eve is about getting together with friends and making plans and then hoping like there is no tomorrow that it all goes well. Whether you are at home, heading to a hot venue or the free fireworks displays it always helps to get some tips from our NYE Concierge.
And we know that once you involve a group in planning, the number of event options increase aswell as the other options of accommodation and transport. So we try can assist with our NYE Concierge who helps providing tips and ideas.

To assist with your NYE event planning our concierge has some tips, ideas, thoughts on some of the best events and parties. When you see this NYE Concierge silhouette it will provide a link to some notes our Concierge has made. Make sure you click thru and check out what the NYE Concierge has to say.
We hope you like our NYE Concierge ideas and may your New Year's Eve be the best one yet!
If you have any NYE questions or queries please make sure you contact us on Facebook, Twitter or even our contact page.
Le Bon Ton
The NYE Concierge crew were delighted to receive a special welcome upon their arrival at Melbourne's answer to a New Orlean's fusion of gulf coast dining.  This awesome venue located in Collingwood was packed with Saturday evening revelers.  Once inside the crew had a peek around the indoor and outdoor areas and loved the quaint fairy lights outside providing muse sophisticated atmosphere.