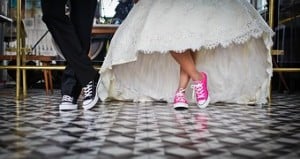 New Year's Eve weddings should be the ultimate party for family and friends. Think about it! NYE can be all about sharing that special moment of entering the new year with your friends and family. And in a similar sense, every couple wants to share one of the most special days in two lovers lives with their closest family and friends, their wedding! Champagne corks popping, great food, dancing and fireworks going off!
You'd be forgiven for getting NYE confused with wedding celebrations. But not every couple can do a NYE wedding. And that is because New Year's Eve is only one day of the year. Not every venue will be available for a NYE Wedding. And if you are going to get hitched on the 31st December, you really want a reception venue where you can take in some of the NYE atmosphere, including a peek at the midnight New Year's fireworks.
Yes, NYE can be one of the really Big Days of the year for weddings. And we all agree there is no Bigger Day than a Wedding Day. We've asked our venues around Australia if they would have room to make a special couples dreams come true to accommodate plans for New Year's Eve weddings. And here is some of the fabulous restaurants, party venues and reception centres around Australia that will be happy to welcome in the new year with "I do"!
Venue ideas for New Year's Eve Weddings
A NYE wedding is a sensational way to say hello to the new year and a new life. December 31st is Summer in Australia and it's absolutely a gorgeous time to have wedding bells ringing with fireworks splashing across the new year night sky!
New Year's Eve Weddings Sydney
Sydney Harbour Escapes
Sydney
02 9328 4748
NYE Wedding cruise options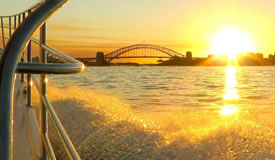 Sydney NYE Wedding Charter Cruise
It's awesome to have a wedding aboard a boat charter on Sydney Harbour. But add the Sydney NYE fireworks and the experience just goes leaps ahead. What a fabulous way to start your new lives together. Sydney Harbour Escapes are experienced in helping Bride and Grooms with information and bookings from just wedding water taxis all the way to wedding charters. Contact the team today!
Special Notes: Be quick as NYE charters book quickly.
See other Sydney NYE options
New Year's Eve Weddings Melbourne
River's Edge Events
Melbourne
(03) 8563 0072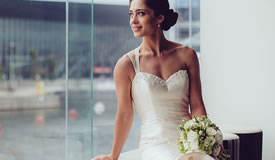 Melbourne NYE Wedding
A wedding alongside the Yarra River in Melbourne is already special but combine with the Melbourne NYE fireworks and you have something truly spectacular. Start your new lives together right by the water at River's Edge, the only Wedding venue in the Melbourne CBD to offer complete water frontage. Make sure you check out the River's Edge Wedding packages to see how the team can help create your dream day!
Special Notes: Move quickly as NYE is always in high demand.
See other Melbourne NYE options
New Year's Eve Weddings Perth
The Aviary
Perth
08 9460 9959
Aviary NYE wedding options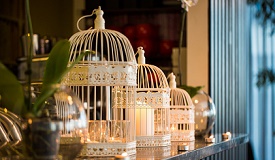 Perth's Exclusive Bird Cage at the Aviary
The Bird Cage at The Aviary could be your exclusive NYE wedding venue. This refined and elegant venue is a favourite in Perth. The Aviary Bird Cage NYE Wedding package is a very special package that takes account of the toasting to the happy new couple and happy new year. Imagine, seeing out the year and tying the knot at the same time. Many celebrities do NYE weddings, and so can you. This exclusive wedding offering is sure to be in high demand. Be quick, brides and grooms, and arrange an appointment with the Aviary Functions Team asap.
Special Notes: Superb central venue that is in high demand for NYE
See other Perth NYE options
And let's chink glasses to happy endings. If you roll forward to the anniversary years ahead, NYE will be a very special date in everyone's lives as they link the fun of your wedding and you as a couple to one of the biggest party events of the year.