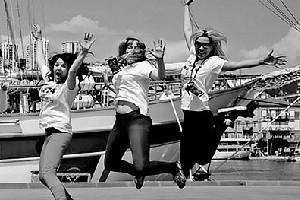 New Year's Eve cruise parties are very popular in Australia. A NYE party cruise is a boat party on the water to farewell the old year with on board celebrations to welcome in the new year! Yes, it sounds pretty awesome, because it is awesome. We've collated party ideas for NYE cruises around Australia! With many Australian city NYE fireworks celebrations held near or over water it makes sense that boat and cruise operators should run NYE cruise party boats!
A New Year's Eve cruise is a special way to celebrate with friends and generally you can choose between boating options of a dinner party cruise, dance party cruise or a combination of both. And as you might expect in Sydney, a Sydney NYE Party Cruise is one of the most preferred ways to see the Sydney New Year fireworks celebrations. Hence they have some more levels of boating options. Most NYE event cities have enough options to cater for everyone. And if a commercial operator can't cater for your NYE cruise ideas, you can always consider chartering your own boat for your own private NYE cruise.
NYE is very special and to have the ultimate NYE party it requires special ideas. Celebrating New Years on the water watching the fireworks and eating and dancing can be that very lovely and special experience. The fabulous benefits of a party cruise include that you can have all your friends in one spot. Each cruise or boat NYE event offering can be different with some providing a food in dinner or cocktail form and some providing inclusive drink packages. With others it can be pay as you go for the drinks. Make sure you check what you are buying, so there are no surprises with any ticketing.
NYE ideas on options of chartering a boat or getting on a group NYE cruise, should be based around if you want to meet other people or if you have your own big group already. Things like do you want to cater yourself, have your own New Year's staff become a consideration.
New Year's Eve Cruise Ideas
Whether you are thinking of a water taxi, a charter yacht or motor boat, or a large commercial party boat or ferry, we have lots of NYE ideas on the water around Australia.
New Year's Eve Cruises Sydney
Sydney Harbour Escapes
Sydney
02 9328 4748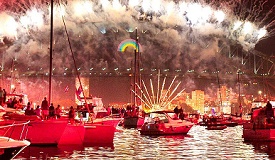 Sydney NYE Cruises
Sydney Harbour Escapes are agents for an awesome array of NYE Sydney boating options and ideas. When the Sydney NYE fireworks go off, Sydney Harbour is the premier place to watch the festivities. And with so many options it's great to get advice on what you require. Contact the team today!
Special Notes: Be quick as NYE boats fill quickly.
See all the Sydney NYE options
New Year's Eve Cruises Melbourne
Victoria Star
Melbourne
0419 883 334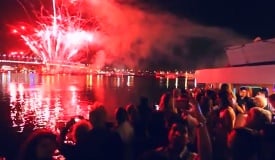 Melbourne NYE Dance Cruise
Cruising from Docklands in Melbourne this long running event by Melbourne Star Cruises is a hive of floating fun aboard with food and music provided in a cocktail style NYE dance party event. Great staff to help coordinate things and this event is well priced. You will get to see the sensational Melbourne NYE fireworks while floating in Victoria Harbour in a premier position.
Special Notes: Sells out so be quick!
See all the Melbourne NYE options
New Year's Eve Cruises Brisbane
Sail Australia
Brisbane
1800 606 111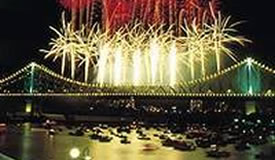 Brisbane River NYE Cruise
Multiple options to see the spectacular Brisbane NYE fireworks aboard a cruise on the Brisbane River. Some early options and some family cruise options so be quick. We have found the people running the boats in Brisbane to be super, so can only hope you have the same experience.
Special Notes: The Brisbane NYE Cruises sell out so be quick and get your group all organised for this 31st December!
Make sure you check all Brisbane New Years options
Finally, if you have a group and are booking on a commercial NYE cruise make sure you get a group discount on your tickets! New Year's Eve cruise operators love big NYE group bookings, so phone them direct and talk a deal. And if you are booking early, make sure you also ask for any early bird pricing! What ever floats your boat this NYE, have a great New Year's Eve cruise!