New Year's Eve accommodation can be quite difficult to find. Depending upon which Australian city you are spending the 31st December in, we have found, there should be plenty of New Year's Eve accommodation available. But, it is getting the right deals in the right locations.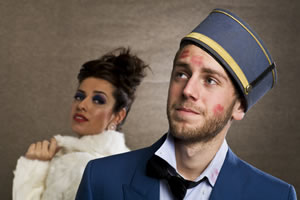 So we try to provide some tips and ideas on things to consider when sorting your new year's eve accommodation needs. Our NYE concierge can help with accommodation tips for this hectic celebration time of year. We also identify some NYE party venues that have accommodation as part of their NYE Packages. It might be that getting great accommodation is your first priority!
Here are a few initial things to put into your NYE plans.
What New Years accommodation do you need?
Most NYE fireworks are put over city rivers or harbour waters in the major cities.
So do you want to wake up to water or city views?
The water views will normally be more expensive.
Fact is you are probably not going to spend too much time in your room.
If you have a group of people then you may look at a family room or a suite.
It's always good to have a room to get ready in before heading out.
And it is so good not having to drive anywhere … just head downstairs etc!
Does the event you are planning to go to have accommodation aswell?  Well hello if it does … as there will more than likely be some all inclusive package you can buy … be quick for these as they go fast!
Booking the NYE Accommodation
try and plan early and obtain early bird discounted accommodation
best to talk to someone when doing the booking and get their name.
Concierge please!
but a note! Be careful when buying accommodation early as some cities may have excess beds as they get closer to the date and venues may discount even further.
have a chat and get some understanding that if the prices drop they will look after you with some niceties etc.  Maybe breakfast in bed!!
some hotels will have a minimum nights policy! Check!
hey it can be pretty fab to hang out on New Year's Day with another night to enjoy!
NB: The NYE team have booked many accommodation days with many hotels and outlets and these thoughts and ideas are from those experiences.  Some good … some not so good!
Some Venues with New Year's Eve Accommodation
Here are some accommodation ideas with associated parties that we know.
Perth NYE Accommodation
The Vines Resort
The Vines
08 9297 3000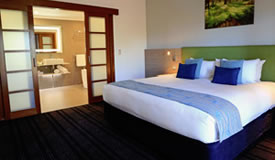 New Year's Eve Premium Rooms and Apartments
Fabulous accommodation. Stay at The Vines Resort and bring in the New Year in style! Enjoy the awesome new year's package knowing you can turn down back at your room! There are premium room and apartments available. Be quick! Further details available via the event material on the Perth page.
Accommodation: Premium Rooms and Apartments
Find things to do in Perth for NYE
Sydney NYE Accommodation
The Sydney Boulevard Hotel
Sydney
02 9383 7222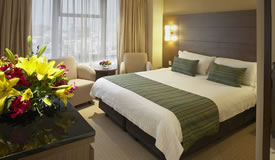 Sydney NYE Premium Rooms
The Sydney Boulevard Hotel has premium rooms and knowing you don't have to hassle with traffic heading home you can enjoy celebrate New Year's Eve with Twenty Five New Year's Eve. Centrally located in Sydney with views to the Sydney fireworks you will be in great hands at the Sydney Boulevard.
Accommodation: Premium rooms
Sir Stamford at Circular Quay
Sydney
02 9252 4600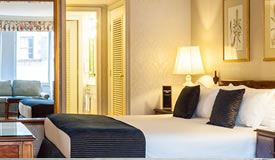 Premium Stay for NYE Party
Sydney's Sir Stamford Hotel is regarded for it's fine accommodation and superior service. And there is fabulous NYE party right in the action. Enjoy the last evening of the year that little bit extra with a Sir Stamford New Year's Eve. Ideally located in Circular Quay you will be close to everything.
Accommodation: Premium rooms
Find things to do in Sydney for NYE
Melbourne NYE Accommodation
Amora Riverwalk
Richmond
03 9246 1211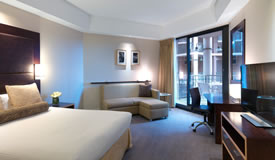 Melbourne NYE Accommodation
Deluxe suites with one side the Yarra River and the other views to Melbourne City. And when staying for New Year's Eve get in early and book the city views to have the fireworks view. Amora Riverwalk is located in Richmond, just a quaint tram ride to Melbourne's city centre. This venue is family friendly and also has a NYE dinner function aswell
Accommodation: Apartments and suites.
Rydges
Melbourne
03 9635 1210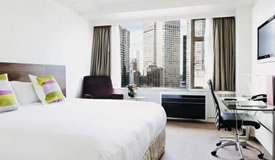 Bobby McGee's NYE Accommodation
One of Melbourne's premier hotels in great central CBD location. And they have a great late checkout NYE/NYD special that includes breakfast, where they can package with your New Year's booking for the Bobby McGees NYE party. Be quick as they will sell out!
Accommodation: Suites.
Radisson on Flagstaff Gardens
Melbourne
03 9322 8000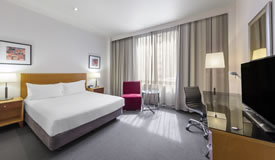 Radisson on Flagstaff Gardens NYE Accommodation
Superior location opposite the Flagstaff Gardens and great views of Melbourne's NYE fireworks. This venue also has a NYE event within it's HQ's restaurant. A great venue for dining the party is sure to be a fun was to see in the New Year.Be This goes quick so be hurry.
Accommodation: Suites and Apartments.
Pan Pacific Melbourne South Wharf
Melbourne
03 9027 2122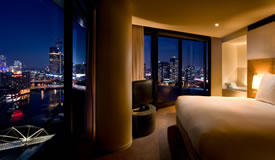 Pan Pacific Melbourne NYE Accommodation
This luxurious hotel next to the Yarra River of Melbourne features gorgeous views over the surrounds of Melbourne city, river, park and bay. Always ask for late checkout if booking for New Year's and even stay an extra day to take in the city sights. This hotel also has apartments but do hurry as they sell out fast!
Accommodation: Suites and Apartments.
Crown Towers Melbourne
Melbourne
03 9292 6868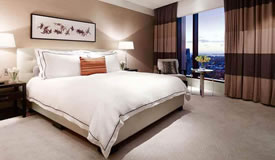 Crown Towers Melbourne New Years Luxury Accommodation
Crown Towers is an award winning luxurious Five Star hotel prominently set on Southbank on the banks of the Yarra River. The hotel has world class facilities and it's location is primary for any activities in Melbourne, including New Year's Eve. If you are attending a Crown NYE Celebration this will be the perfect place to stay. Even if you are not attending a Crown NYE function, it's still the perfect place to stay
Accommodation: Luxury Suites and Apartments.
Stamford Plaza Melbourne
Melbourne
03 9659 1000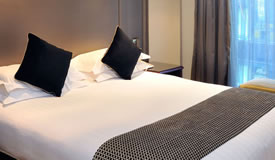 5 Star Melbourne NYE Accommodation
Enjoy deluxe suites and hotel rooms at a traditional 5-star Melbourne CBD Hotel. Located at Collins St's Historic Paris End you'll be close to the Melbourne NYE festivities with ample public transport to get you to and from your NYE celebrations. Plus spectacular facilities for you to enjoy during your NYE stay.
Accommodation: Apartments and suites.
Find things to do in Melbourne for NYE
Greater Melbourne NYE Accommodation
Yarra Valley Lodge
Chirnside Park
03 9760 3326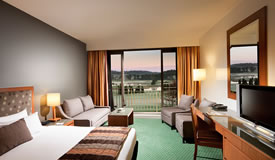 New Year's Eve Deluxe Guest Rooms
Yarra Valley Lodge is an exquisite resort style venue in Melbourne's outer east. With the Yarra River meandering through the grounds near by and the gorgeous calm setting it's a treat for any time of year. At the special NYE time of year Yarra Valley Lodge has a strong reputation for holding fun filled events. So with the option of new year's eve accommodation at a reasonable package price, it certainly is an attractive NYE options!
Accommodation: Deluxe rooms and lodges
See more on Greater Melbourne NYE Ideas
Adelaide NYE Accommodation
Oaks Plaza Pier
Glenelg
1300 551 111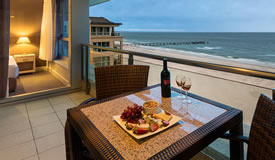 New Year's Eve Accommodation
Awesome location for accommodation at the Oaks Plaza. Right on Glenelg beach to feel the summer sea breeze. This apartment style spacious accommodation will be the suite for New Year's Eve. This venue is close to Adelaide airport. Make sure you checkout the resort facilities as they spell out FUN FUN FUN to make your stay a comfortable one at the Oaks Plaza Glenelg
Accommodation: Self-contained one, two and three bedroom apartments.
See Ideas for things to do for Adelaide NYE
Gold Coast NYE Accommodation
The Island Hotel
Gold Coast
07 5538 8000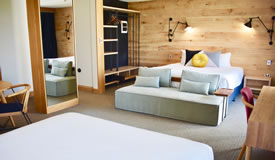 Gold Coast NYE Premium Suites and Rooms
The Island on the Gold Coast is centrally located to take in the best sights the Gold Coast has to offer. And with multiple Island options for celebrating New Years Eve. You will be comfortable knowing you don't have to drive anywhere.
Accommodation: Premium rooms and Suites