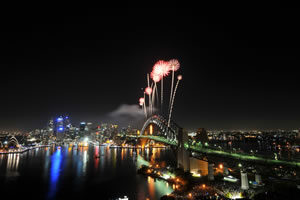 New Year's Eve fireworks are the big carrot for crowds to gather for the end of year celebration. Normally towns and cities around Australia provide free fireworks displays out of their council budgets. Town hall signs off on the budgets for pyrotechnic displays to wow the crowds and get the ooh-arghs from the subjects. Each council trying to outdo each other with their NYE mojo on the line!
Regulations and decisions around fireworks will differ from city to city. Decisions may also be made late.  Please check with the respective councils as to if fireworks will be part of the local NYE celebrations.
Sydney's New Year's Eve fireworks are world renowned with the big bangs lighting up the sky off the Sydney Harbour Bridge and reflecting, like a disco mirror ball all over the waters of Sydney Harbour! Simply sensational! And a must see and do for any NYE Party going aficionados. It's got to be on the NYE bucket list!
Australia is a big and wide country and is split up into states and territories. So because the country spans across time zones, the NYE fireworks are let go at different times working from east to west following the going down of the sun. That might be easy to follow … but that is not all … with Daylight Saving, or Summer Time. So each of the states decide if they will have the commercially sensible Daylight Savings. And … in true diversity some states and territories in Oz have not implemented Daylight saving.
How Daylight Savings effects New Year's Eve fireworks timing.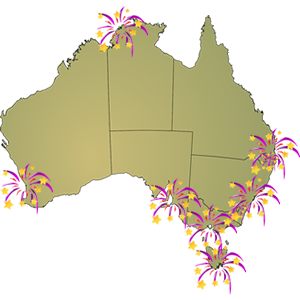 The fireworks light up across Australia in this sequence at 12 midnight on the 31st December.
– Sydney and all of NSW
– Melbourne and all of Victoria
– Hobart and all of Tasmania
– Canberra and ACT
Then 30 minutes later.
– Adelaide and all of South Australia
Then 30 minutes later.
– Brisbane, Gold Coast and all of Queensland
Then 30 minutes later.
– Darwin and Alice Springs and the Northern Territory
Then 90 minutes later.
– Perth and Western Australia
A little bit of back and forth with South Australia celebrating and going off earlier than Queensland.
Bing Bong Boo it's all about the Bang!
Early New Year's Eve Fireworks for families
A lot of cities divide their budget to have 2 fireworks events on NYE. This is to assist families better involvement in this national community event and celebration. Normally one of the fireworks displays will be designated as a family fireworks and is generally held a lot earlier than midnight. The family fireworks are normally scheduled somewhere around 8.30pm – 9.30pm. Sydney, Melbourne, Brisbane, Adelaide, Darwin and Hobart all have earlier family fireworks. We'll update more as we get announcements.
New Year's Eve fireworks details around Australia
So what is going on in your capital city? Let's find out!
Perth NYE Fireworks
There doesn't look like there are any early New Year's Eve fireworks in Perth. Interesting to note that the new year's eve fireworks are not put on by the council in Perth. They are funded privately or commercially. So here is the normal places to see fireworks set for midnight around Perth.
– Crown Perth, Swan River – Near Crown Casino.
– Swan River, opposite the Left Bank, Riverside Dr., East Fremantle.
– Claremont Showgrounds, Claremont.
To add value to the celebration make sure you checkout all the super NYE events in Perth.
Darwin NYE Fireworks
Darwin's waterfront Wharf precinct area with early family fireworks at 9pm and then the big fireworks NYE show at midnight!
It's always good to take in the fireworks with a function or venue to retreat to. So to sit back and relax and have some food and drinks available make sure you check out the ideas for Darwin this New Years. Lots of fun in Darwin this NYE!
Melbourne NYE Fireworks
There are two huge NYE fireworks displays in Melbourne to celebrate the end of the old year and the welcome of the new year.  Large and free celebration zones are setup across the city in park areas with entertainment and food trucks. These precincts are family friendly areas.
And then at Midnight the skies across Melbourne will light up with a Rooftop fireworks display. You will just need to get outside to see it! There are also fireworks displays around the city at places like St Kilda Beach. If you are looking to head to an event, and have some food and drinks, then check out these Melbourne NYE ideas.
Sydney NYE Fireworks
All the attention is on Sydney Harbour with a massive display. There will be two fireworks sessions. An early one focused on families around 9pm and then the main display at midnight. You just need to be on or around the Harbour to see it all. It all happens on the Harbour and the Sydney NYE Fireworks creative designers use the Sydney Harbour Bridge as a centre piece, so if you want to get to a cruise of a restaurant or an event see the ideas for Sydney NYE.
Adelaide NYE Fireworks
Adelaide council support fireworks in the Rymill Park area. It's a great highlight for families and does include an early family friendly fireworks display normally around 9.30pm and then another one at midnight to see out the year. And towards the beach at Glenelg there are also fireworks displays over the beach waters.
Make sure you checkout details of events and ideas to celebrate NYE in Adelaide.
Canberra NYE Fireworks
In the ACT there will be light sound and action times two! Yes Canberra will have family friendly fireworks early at around 9pm. Then at midnight the sky will bright up as the new year is welcomed in with another super fireworks display.
To enjoy the night all the more get along to one of the fabulous Canberra New Year's events.
Hobart NYE Fireworks
Hobart is Australia's most southern city. But YES fireworks light up the night skies in a similar fashion no matter what city you are in. The Hobart Council sponsored NYE displays happen with a family friendly fireworks at around 9.30pm down at the waterfront. It's all part of the Tastes of Tasmania festival. Then again at midnight another sensational display will have the crowds welcoming in the new year in style.
To enjoy the night all the more get along to one of the fabulous events for Hobart NYE.
Brisbane NYE Fireworks
Brisbane will have two NYE fireworks displays this 31st December. And the earlier 8.30pm display will light up the Brisbane River and the night sky! This Brisbane city sponsored fireworks display is family friendly. Then another display will happen at midnight with both community events emanating from the Southbank area.
To see in the new year at a ticketed event see the Brisbane NYE events.
Gold Coast NYE Fireworks
The Gold Coast has New Year's Eve fireworks displays at various locations along the coast from Coolangatta to Surfers Paradise. But here are some of the main fireworks. Broadbeach are 8pm and midnight. Coolangatta Beach are 9pm and midnight. Coomera around 9pm. North Kirra around 7.30pm. Northern Gold Coast around 9pm. Paradise Point around 9pm. Surfers paradise are on at 8pm and midnight. And if you want to enjoy the sky shows from a ticketed event the see the Queensland NYE event ideas.