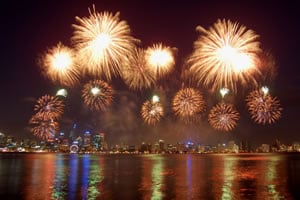 New Year's Eve Perth style is something everyone should do. December 31st is a very special Summery time of year in Perth with lots of NYE party celebrations awaiting.  New Year's Eve Perth 2023 has restaurants and venues celebrating the welcome of the new year 2024. Many venues providing party themes for patrons to get involved in. With these fun events ranging from Masquerade parties to Retro.  Perth matches the party vibe of NYE with the bigger cities! Get ready to see out NYE 2023 in style and welcome in the New Year 2024.
On 31st December Perth comes alive to see off the year with fireworks put on by private concerns and communities. These fireworks displays reach down to the Swan River. Most places around the River area are included in the celebrations. The council does not put on the NYE fireworks in Perth.
The Summery weather in Perth in the month of December is normally very warm.  Many events have the "Summer Loving" feeling.  A great start to the concoction that makes for the best New Year's Eve Perth experience.  Add to that some marvelous Perth venues and an awesome energetic, even youthful vibe and you have the ingredients for a very special NYE!
If you are going to party hard then it might be a good idea to arrange Perth hotel accommodation for the 31st December 2023 as transport can be difficult around Perth after a big party on NYE.
New Years Eve Perth 2023
What are you planning to do for Perth's NYE Celebrations 2023. With so many fun themed events with parties, dining and dancing to see in 2024. These Perth New Years options will help.
Cost of party events in Perth for NYE varies but in general we have seen prices from free entry, then next stage being around the $80 thru to $200 for events that have includes.  With the medium being around $135.  When looking for great value, consider if the NYE event packages are all inclusive of food and drinks.  And if arranging a large group, ask if they have a group NYE discount.
For a restaurant NYE's in Perth expect to pay $120 to $200 for a sit down set menu.  Some restaurants welcome families and children and some are more adult oriented for a late night party, so be sure to ask.
The Best New Year's Eve Perth 2023 Party Ideas
We've listed these awesome celebration ideas from the Perth and Western Australia area  for your consideration.  NYE 2023 is looking great with something for everyone!
Great New Years Eve 2023 Perth Party Ideas
What are you doing this NYE in Perth? These fabulous ideas are sure to be popular to Welcome 2024.
Fabulous Ways to Celebrate NYE 2023 in Perth
Make sure you hurry to get your families and friends together for these NYE celebration ideas as they are sure to sell out.
More Fabulous New Year's Eve Perth Party Ideas 2023
We love to party and Perth celebrates NYE so well.  Here are some more ideas to consider for a great NYE!
What to do on New Year's Day in Perth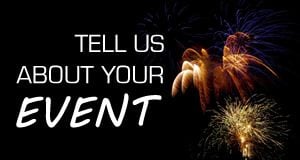 After New Year's Eve Perth comes alive again the next morning with New Year's Day. Make sure you checkout what's on in Perth on NYD and continue the party, or just recover! Happy New Year Perth!
Summary
Event
​
New Year's Eve Perth 2023 Party and Dining Events Guide
Location
​
Perth New Year's Eve

,

Perth CBD

,

Perth

,

Western Australia

-

6000
Starting on
Ending on
Description
New Years Eve Perth 2023 festivities focus around the Swan River NYE fireworks. Celebrate NYE Perth best events and party ideas to help Welcome the new year 2024.