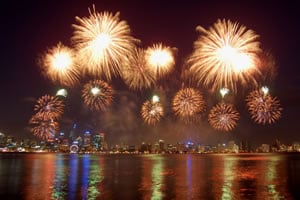 New Year's Eve Perth style is something everyone should do. December 31st is a very special time of year in Perth with lots of summery event options and a feast of NYE party celebrations awaiting.  For New Year's Eve Perth has restaurants and venues celebrating the passing year with most events providing themes for patrons to get involved in. From Masquerade parties to Retro, Perth matches the party vibe of NYE with the bigger cities! Perth, it's time for planning to see out NYE in style and welcome in the New Year.
On New Year's Eve Perth comes alive with fireworks put on by private concerns and communities.  These fireworks displays reach down to the Swan River so everywhere can be included in the celebrations.  The council does not put on the NYE fireworks in Perth. The weather in Perth in the summer month of December is normally very warm.  Hence events have the summer loving feeling.  A great start to the concoction that makes for the best New Year's Eve Perth experience.  Add to that some marvelous Perth venues and an awesome energetic, even youthful vibe and you have the ingredients for a very special NYE!
If you are going to party hard then it might be a good idea to arrange hotel accommodation for the 31st December as transport can be difficult around Perth after a big party on NYE.
Cost of party events in Perth for NYE varies but in general we have seen prices from free entry, then next stage being around the $80 thru to $200 for events that have includes.  With the medium being around $135.  When looking for great value, consider if the NYE event packages are all inclusive of food and drinks.  And if arranging a large group, ask if they have a group NYE discount.
For a restaurant NYE's in Perth expect to pay $140 to $200 for a sit down set menu.  Some restaurants welcome families and children and some are more adult oriented for a late night party.  So be sure to ask.
New Year's Eve Perth Events, Parties & Cruises
What are you planning to do for Perth's NYE Celebrations 2018. With so many fun themed events with parties, dining and dancing to see in 2019. These Perth New Years options will help.
The Best New Year's Eve Perth Party Ideas
The Vines Resort

Event Sold Out

New Year Carnivale Party

This New Years Eve in Perth the Vines Resort will be partying with a superb New Year's Eve Carnivale Party.  So come on people get dressed up bright carnivale colours  and enjoy a night of dinner, dancing and music.  The Vines NYE starts with drinks and canapes at the pavilion seeing the last sunset of 2018. Then dinner and dessert back at the Barrett Lennard Room.

The NYE "all inclusive" package also includes a 5 Hour Beverage Package until Midnight and then a cash bar till 1am for those that are still partying. A party full of music and dancing, a glitter cannon will light up at midnight to see in 2019.

NYE Concierge Notes: The Vines is a Resort just East of Perth.  This World renowned Resort has many fabulous facilities.  One of those is the fabulous accommodation. So this NYE 2018 treat yourself and why not book in to stay overnight aswell.

Packages

Tickets: $165 per person

The Aviary

Event Sold Out

Cabana Club New Year's Eve

Escape to the Cabana Club on the Rooftop this New Year's Eve at the Aviary in Perth. Be entertained under the stars by DJs playing the best tunes. Package includes snacks plus a 4 hour beverage package with, sparkling, house wine, tap beer & cider.  Plus Food Stalls and Cocktail Bar. Package starts 8pm.

NYE Concierge Notes: Great venue with fab staff and always sells out, so be quick. Good food and awesome feel to this venue.

Packages

Tickets: From $150

Sweetwater

Event Sold Out

Singapore Sling Soiree NYE 2018

Spend NYE at this fantastic rooftop venue in Perth's East Fremantle with a Tropical Cocktail Party. Enjoy 3 hours of roving Asian Style Canapes, 3 Cocktails tokens and 2 Food Hawker Station tokens featuring Dumpling Station & Noodle Bar. Plus party the night away with fantastic music courtesy of DJ Marcel LIVE on the decks.

NYE Concierge Notes: Great Rooftop NYE Location, Brilliant Atmosphere.

Packages

Tickets: $85pp
Great New Year's Eve Perth Party Ideas
The Guildford Hotel

Tickets Now on Sale

Mexican Fiesta New Year's Eve

Party down old Mexico way this New Year's Eve at the Guildford Hotel. Enjoy the fiesta and say adios to 2018 with a 4 Hour All Inclusive package with Mexican style fare including nachos, tortillas and more plus beer, wine, sparkling and cider. Party the night away in the Day of the Dead Silent Disco.

NYE Concierge Notes: This one will sell out, so get your crew together for a fun NYE. Terrific vibe to this venue.

Packages

Tickets: From $100

Wolf Lane

Tickets Now on Sale

Hansel & Gretel House NYE

Follow the breadcrumbs this New Year's Eve and discover what Wolf Lane has to offer. Tickets include 2 Candy Lane Cocktails, snacks, fondue station and candy buffet. Be entertained by DJ music all night. Doors open 7:30pm. Cash Bar Available.

NYE Concierge Notes:   Awesome fun venue with attentive staff. Wolf Lane always sells out. Get your group together and get your tix.

Packages

General Admission: $70 pp

The Vines Resort Cafe

Make a Booking

New Year's Eve Family Countdown

Enjoy a New Year's Eve for the whole family at the Vines Resort Café. Send off the year with a Pizza Buffet featuring all your favourite toppings plus green salad, pasta salad, hot chips and dessert. Fun for the whole family with lots of activities for the kids, a DJ playing your favourite tunes from 7pm and a balloon drop at the kid friendly time of 9pm. Event starts 6pm.

NYE Concierge Notes: This is a family friendly NYE event. And don't forget the Vines is a Resort and has accommodation options for the 2018 / 2019 New Years.

Packages

Adults: $55 per person
Kids: $39 per person (5-12 yrs)
More Fabulous New Year's Eve Perth Party Ideas
The Globe

Tickets Now on Sale

Celebrate NYE Around the Globe

Party around the Globe this new year's eve in Perth with 3 themed areas. Visit Mexico in the Main Bar, travel to Japan in the Lane Bar and see the sights of Italy under the sky in the  Garden. Plus all night LIVE music and entertainment. Tickets includes 2 Drinks tokens and 3 Food Stall Tokens.

NYE Concierge Notes: Great Perth Venue with Bar, Lounge and Laneway areas.

Packages

General Admission: $49
What to do on New Year's Day in Perth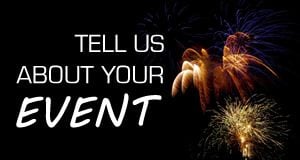 After New Year's Eve Perth comes alive again the next morning with New Year's Day. Make sure you checkout what's on in Perth on NYD and continue the party, or just recover! Happy New Year Perth!