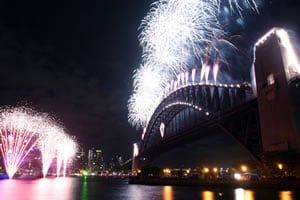 New Year's Eve Sydney is a must do, must see, must be there event. It should be one of those bucket list items! Get ready to celebrate NYE 2018 and welcome in 2019. With the canvas of the waters of the Sydney Harbour and all it's magnificent surrounds the Sydney NYE is recognised as one of the very special New Year's Eve events world wide. And we say Sydney New Year is one of the Eight NYE Wonders of the World.
The city attracts so many international visitors for the 31st December fireworks spectacular that the Sydney City Council has a whole department specialising on the event.  It's a tourism bonanza for the commerce of the town! There is good reason for that Sydney windfall.  Because it has been crafted into one of the best NYE Fireworks display in the world.  Part of that reason is because the fireworks and public entertainment are held over Sydney Harbour and there are so many viewing points.  Whether you are up high, or in a boat on the Harbour or watching from one of the many restaurants and clubs overlooking the Harbour, you should be able to view the midnight fireworks.  And you have to make sure you see ships parade in the Harbour of Lights.
So, you have to go to Sydney New Year's Eve.  Now the question becomes, "Where to go for NYE?".   We believe the major target market demographic for the New Year's Eve experience is a little different than that of other Australian NYE hot spots.  All this entertainment that is put on by the City and is in the centre of everything targets those aged from 8 to 100.  As an example we have found simply there will be more family focused NYE package offers.  Also, there will be more spectacular NYE dining and NYE cruise opportunities than other cities. And generally if they are situated on the Harbour then the viewing will be a spectacle.
Sure there will be New Year's Parties targeting 18 to 28 year old's but there will also be a more diverse range for everyone else.  Hence a fabulous array of New Year's Eve Sydney 2018 events for all to see in the new year of 2019 in style.
One trick to Sydney is that it is going to be busy on NYE, so plan to stay near the event where you are celebrating as traveling to and from could spoil all the fireworks fun.
New Year's Eve Sydney Events, Parties & Cruises
If you are looking for things to do on New Years Eve in Sydney then these great fun ideas can help. With ideas on what to do for Sydney's New Years Eve celebrations that includes restaurants, parties, cruises, dancing and some with a mixture of all. Hopefully, there is  something for everyone to see in the new year.
Sydney Harbour Escapes

Tickets Selling Fast

New Year's Eve Cruise Boats on Sydney Harbour

Looking for that perfect New Year's Eve Sydney Cruise? Sydney Harbour Escapes can help you see in the new year with varied NYE options for chartering for your own private party. They have over 60 New Year's Eve boats to choose from. They also cater for smaller groups and individuals with ticketed packages. Tall ships, sailing yachts, motor cruisers, catamarans and luxury super yachts to name a few of the many options. And if you are quick make sure you ask about getting in the Harbour of Light Parade. Make a Booking Enquiry

NYE Concierge Notes: Sydney Harbour Escapes are super to deal with and have a huge offering of options on the water for the New Year's Eve celebrations.

Packages

Ticketed cruises: from $400pp

Tickets Now on Sale

Sydney New Year's Eve Cruises

Enjoy the New Year's Eve 2018 Sydney festivities with a cruise on the Harbour. Sail Australia has a huge variety of boats, launches and ships available with varying inclusive packages to suit any budget. Groups on NYE are a speciality for Sail Australia. So make contact to discuss your New Year's experience on Sydney Harbour for this 31st December. And see in 2019 in style!

Packages

Ticketed Cruises: From $175 pp for 9pm cruise

All Hands Brewing House

Expected Release: November 2018

Sydney New Year's Eve at All Hands Brewing House

Bring in the New Year on the shores of Darling Harbour at the family friendly King St Brewhouse. Settle into the huge beer garden and enjoy a fantastic view of the fireworks or sample the great food on offer in the restaurant with bookings for lunch and dinner on the 31st December most welcome.

NYE Concierge Notes:   Great location on Darling Harbour in the past has offered free entry. Indoor & Outdoor Event.  And book the family into this one

Packages

Options may include

Bungalow 8 & The Loft

Expected Release: December 2018

New Year's Eve Party

It's always a Sydney New Year's Eve not to be missed at Bungalow 8.  Last year the Stafford Brothers headlined the party and it went off.   And with Bungalow you know everyone is treated with various premium packages to make the most of the final days of the year.  Have a spectacular New Year's Eve down by the Sydney Waterfront at Bungalow 8.

NYE Concierge Notes:   Always one of the popular large Sydney NYE dance party events.  Can't wait for this years announcements. And includes awesome Sydney fireworks & waterfront views. This is an indoor & outdoor event.

Packages

Options may include


Early release
Early bird
Group options
Private booths
VIP options

Cargo

Expected Release: December 2018

New Year's Eve Party

Sydney New Year's Eve goes off at Cargo.  A staple of the harbour NYE scene. Last year The Aston Shuffle got the party grooving. Always has all inclusive packages and GA tickets.  Party in style with a VIP packages and step it up this New Year's Eve and welcome 2018 right on the Harbour at Cargo.

NYE Concierge Notes:   Sells out and great Sydney waterfront location. A great NYE party crew that will cater for groups. So get your NYE crew of friends together and book in a group package.  Can't wait for this venue's NYE offering.

Packages

Options may include


Early bird
Group options
VIP options

Athol Hall

Tickets Now on Sale

Sydney New Year's Eve Dining

New Year's Eve Sydney 2018 just got a whole lot better. Athol Hall on the Mosman (North) side of the Harbour has been beautifully restored and is ready for a fabulous NYE Dining offering looking out over Sydney Harbour and Sydney's beautiful Bridge. So come and celebrate with friends and family at this awesome venue! See in 2019 in style!

With a private balcony you will have uninterrupted views of the Sydney NYE fireworks show! The NYE Package includes Chef's Canapes on arrival.  Once seated this will be followed by a 4 course degustation dinner with a 5.5 hour premium beverage package and Petit Fours with Tea and Coffee. You and your group will be thoroughly entertained throughout the evening by a DJ before watching the fireworks from the private balcony. Simply fabulous!

NYE Concierge Notes: Awesome location overlooking the Harbour. Be quick to secure your tickets as they are limited.  And WOW what an opportunity to be at the beautiful Athol Hall!  Go on enjoy some of the best on offer.

Packages

Tickets: $295

The Sydney Boulevard Hotel

Tickets Now on Sale

Twenty Five New Year's Eve

Celebrate New Year's Eve Sydney with spectacular views at Twenty Five. Great inclusive packages that includes live NYE entertainment, a scrumptious cocktail canapés provided over three hours. All that is complemented by a standard beverage package for four hours. Simply stunning views over Sydney and a great atmosphere to see out the year and bring in the new year. There is accommodation at this venue that you can take advantage of in a package. Just ask the friendly staff.

Packages

Adult (18+): $289pp
Child (5+): $145pp
Kids under 5: FREE

Sir Stamford

Tickets Now on Sale

A Casino Royale New Year's Eve

Enjoy an exquisite evening and countdown to the New Year at Sydney's Sir Stamford at Circular Quay! Celebrate in sophisticated casino style in homage to James Bond. Experience fireworks views at 9pm and midnight and be treated to a 5 hour beverage package with LIVE entertainment, Casino table games and food stalls.

New Year's Eve accommodation also available.

NYE Concierge Tips: Spectacular location in Sydney's Iconic Circular Quay, right in the heart of the Sydney NYE celebrations. Get in quick to see out the year in style.

Packages

Tickets: $399 +bf
Sydney's NYE Fireworks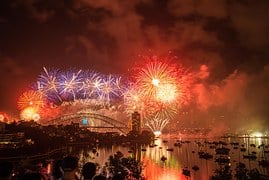 There are three major Sydney light displays that you need to see. So making sure your timing is scheduled and that you have your seat sorted and drink in hand! It's all going to be very spectacular and Sydney is ready!
At 9pm is the New Year's Eve family fireworks display. This lasts about 8 to 10 minutes and will have the young and old ones going wow! Then straight after that is the Parade of Lights where boats are like a cavalcade of floats under the Bridge with spectacular illuminating lights. If you are on the right boat you too can be party of NYE Harbour style!
Then at midnight on the last day of the year, being 31st December, Australia's great city sees out the old year and welcomes in the new one with around 12 minutes of incredible and spectacular fireworks pyrotechnics. These fireworks have all the crowd dazzling with smiles and surprise. That is of course if you are watching and not having a quick kiss to see out the year! Happy New Year!
Do you need to party on or recover on New Year's Day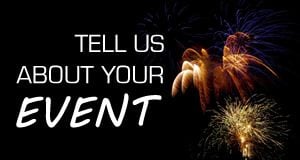 After NYE is over the next day is the first of January 2019. Yes that is New Year's Day! You may need to recover after a spectacular New Year's Eve Harbour City style. Or it may be that you and your friends may wish to continue to celebrate. We have ideas on and off the water. For all the good oil on recovery or action for the 1st January check out what's on New Year's Day Sydney.