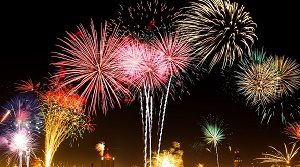 The planning for a terrific NYE 2018 starts to get more real as more venues and events come online with their NYE tickets available for booking.    And over the last week we've seen a number of events around the country go live with NYE tickets for sale.  It's getting exciting!This is a really exciting time for those planning their ultimate New Years Eve.  You now have to start to think of things like where to stay, how to get there, what to wear and getting your friends together to get it sorted.  The extra benefit for buying NYE Tickets early is that sometimes you can get an early bird or first release type discount.
In Brisbane, the Queensland POPs Orchestra have gone live with their ticketing for their 2 NYE Gala Performances.  And hurry to get the black tie event with rooftop views of the midnight fireworks over Brisbane River!  Make sure you checkout what to do in Brisbane this NYE.
In Melbourne, well it's a NYE fiesta, with so many things to do.  The H20h crew have announced they will be at Riverside at South Wharf right in front of the Yarra River Melbourne new years fireworks.  This event always sells out and to celebrate the move from Docklands to Riverside, they have put their tickets on sale early.  Be quick people as this will sell out.   Also in Melbourne, Hophaus, Ludlow and also Amora Riverwalk have opened up tickets for their awesome NYE events.  Amora also have accommodation so that can be handy!   And an announcement this week that  Eureka 89 tickets will go on sale mid September.  Yes, it's time to see what is happening in Melbourne for New Year's Eve.
In Perth, the Vines Resort NYE event is already on sale and booking fast. They also have accommodation so make sure you make a special evening of this New Year's Eve.
Look in on what's happening out West in Perth for this NYE.
Down south in Tasmania, New Years Eve is getting exciting with the Hobart Function and Conference Centre NYE tickets on sale too.  This venue is exquisite and is perfectly located on the pier for viewing the NYE fireworks.  This Hobart NYE event always sells out and is a favourite on the Apple Isle.   See all the details on the Hobart NYE ideas.
In Sydney the world is asking, "What can we do in Sydney on New Year's Eve?"  We'll Sydney Harbour Escapes have an abundance of NYE Party Cruise offers available and bookings are going fast.  They have ticketed NYE Cruises and also charter NYE Boats. So be quick and checkout all the options of things to do in Sydney's for NYE.
With only just over 150 days to go until the biggest party it's time to get your skates on an start thinking of what you might do. And you can even book it now.  It's going to be a very exciting 2018 New Year's Eve  and welcome to 2019!