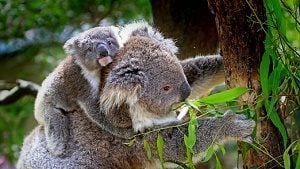 NYE Australia is one of the best and biggest New Years Celebrations in the World!  And our fabulous parties in the cities like Sydney, Melbourne and Brisbane are a massive attraction for international visitors.  Not to mention the attraction of our Koalas and other natural wonders we have on offer. NYE Australia is a Party Destination and the World is Calling! On December 31st each year, it's Summer time in Australia and the warm, fun climate is in contrast to the cold northern hemisphere Winter happening at the same time.  The promise of glorious sun and gorgeous Australian beaches is a lure trekked by many international tourist friends each year.  But the addition of some of the Worlds best New Years Eve celebrations right here down under, can be a magnificent Australian draw card that has the World Calling.
In our 20 years of experience and data with NewYearsEve.com.au , we can see enormous visits to our website from overseas locations.  And our a recent review showed United States, China, UK, France and the rest or Europe are just some of the major countries, where people from overseas are looking to plan a New Year's Eve in Australia.
The international visitors are  looking for Celebration Party events, Restaurants, Cruises (both Ticketed and Charter), Hotel Accommodation and more.  What's on for NYE Australia because the World wants to buy in.  NYE Australia is a Destination!
Some NYE Australia 2019 events and parties already have tickets on sale and these are being snapped up.  In Sydney, City Extra restaurant on Circular Quay has a fabulous dining experience on sale. As has Sydney Harbour Escapes with it's ticketed cruises and charter NYE cruises.   In Melbourne the Victoria Star Dance Cruise NYE 2019 is also already on sale.  And in Hobart the HFCC dinner and dancing NYE 2019 is also on sale.  These events always sell out, so be quick people and get your NYE 2019 plans underway!