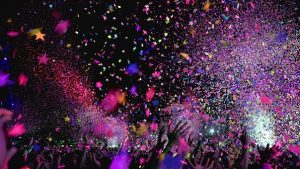 With Winter just about here that makes for only one more season before Summer is around again and before we know it NYE is here. With shorter days during Winter and the cloudy and cold days of rain it can be a little lacking colour when compared to Summer and it's warm days and bright sunshine.So when planning your 2018 New Years celebrations it's important to be thinking of bright and fun vibrant party events with ideas that are not to be framed by the current Season. And from now on it gets very exciting and announcements get made on what we all can look forward to in seeing out 2018 and welcoming in 2019.
Already, a number of events have been confirmed they will be back bigger for NYE 2018/19. The crew at Sydney Harbour Escapes in Sydney have announced they will have loads of New Years Cruise  options for NYE party goers. These options cater for any age groups from families with infants thru to single and elderly.  With many years experience they can assist any Sydney NYE Cruise enquiry.    Make sure you checkout all the Sydney  NYE cruise party options.   And then
In Melbourne the fun NYE H2O crew have announce they will once again be back to light the place up and put fun into New Years in Melbourne once again.  This crew always have a massive NYE party lined up and it's a monty that this party will be surely be one of the hot tickets again.  Only initial details have been released so far but stay tuned for their release dates.  And make sure when planning your Melbourne NYE that you look at all the Melbourne New Years Party ideas.
So dust off those closing out Wintery days and do your planning party people. We can't wait for NYE 2018 and also we can't wait to bring you more announcements on what's hot for the coming New Years!