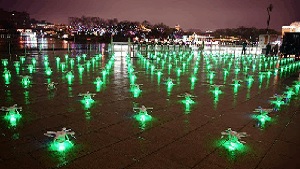 The Gold Coast City Council Mayor Tom Tate earlier in the year announced a plan to replace Fireworks with Drone Works for the Gold Coast NYE celebrations in 2022.  The Mayor said  "We are leaders in caring for the environment – on the ground and in the sky.  Drone light technology will be amazing to watch and I hope councilors back the idea for 2022."
The Gold Coast New Years Eve celebrations are  loved by many families and party people alike.  Drones are aerial devices. These drones can be small and they can carry lights.  Then the drones can then be coordinated in large swarms of drones called Drone Works.  A play on fireworks!  Last year a drone works lighting display was used for NYE in Docklands Melbourne.
The Mayor of Gold Coast indicated that a similar event budget would be spent on the night time NYE display.  This change could be a huge benefit to the environment.  There would not be the plumes of smoke from the normal fireworks.  It has been said that the drones are less problematic for pets and animals aswell.  And with New Years Eve being a celebration for everyone, keeping pets safe should also be a consideration.
Talking to one big hospitality venue on the Gold Coast , they suggest that the drone works could be an attraction and "worth a go"!  On the Gold Coast Hotels, Restaurants and Venues are all looking forward to a more positive NYE holiday period and something new could be a help to welcome in 2023.
For those thinking of  thinking looking at ideas on how to celebrate a Gold Coast  NYE with Drone Works see  NYE Gold Coast Dining and Events.