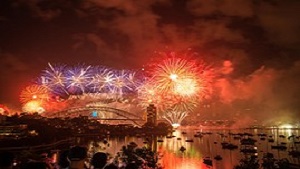 Sydney Council has confirmed that the fabulous NYE Fireworks will be staged on New Years Eve.  The Sydney NYE is one of the most famous in the world and over the years fireworks have been an integral part of the celebrations.  There will be midnight fireworks and earlier fireworks as part of the 31st December celebrations.

Fireworks are historically a huge draw card for all celebration events.  Times are a changing. And new age visual display devices like laser lights and drones with lights are becoming more frequent.  The Sydney NYE fireworks are the culmination at midnight on 31st December of a whole evening of celebration and entertainment.  The Sydney Council who oversees the NYE evening entertainment has confirmed that the famous fireworks will again be a significant part of the celebrations.
Many venues, restaurants and cruises  around Sydney are set up for viewing of the fireworks from venue tables and balconies etc. It's exciting news for the hospitality industry that has been smashed during the covid years.  It's also fabulous news for fans of NYE to celebrate in style.  And families also enjoy the NYE fireworks.
So it's time to get organised and start to get your family and friends planning a NYE to remember.  And the Sydney NYE celebrations should be on the bucket list!.  For ideas of events in Sydney see  NYE Sydney Dining and Events.