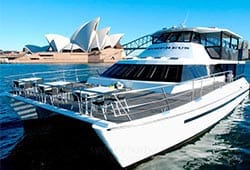 Sydney New Year's Eve 2017, seeing in the new year of 2018, promises to be one of the best ever.  The huge Sydney production is in full planning. Lights, camera's action.  The one thing you need to do is get your tickets organised, and there is no better place to see the huge event than on a boat on Sydney Harbour or Harbourside.
With so many packaged and individual options from terrific booking agents like Sydney Harbour Escapes and also Sail Australia there is no doubt you will have the best NYE options.  And with so many people interested from overseas and locally, there is no time to waste.  There will be cruises with yachts or luxury boats and you may like to participate in the parade of lights.
On land it is important to get in early with some great venues harbourside so you can see the exceptional NYE production that is Sydney New Year's Eve!  You may do dining, which can be casual canapes and cocktail, or more formal and even degustation.  Whatever takes your fancy for this NYE you are assured to be taken care of.
The Team at NewYearsEve say
We can see the website traffic and there is no doubt the international interest is phenomenal. And it just grows as the date of the 31st December gets closer. Be quick people and have a happier NYE!
See all details at Sydney New year's Eve