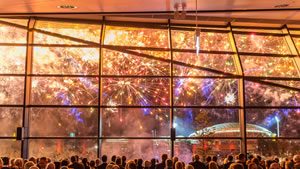 Where are you going to do NYE Australia?  Adelaide in South Australia is spectacular for New Years Eve.  The Adelaide NYE fireworks over the Torrens River can deliver a sight like no other.  Add to that some spectacular party package options and you have the ingredients for a great new year's eve. It just needs you.
There is no doubt that Australia is one of the preferred destinations for international visitors celebrating New Year's Eve. While these visitors tend to be concentrated on the east coast of Australia, it should not be lost on them that Adelaide offers a fabulous NYE Celebration opportunity.  A gorgeous climate in Summer time, Adelaide comes alive on the 31st December.  The fireworks are spectacular!
In terms of events and parties, Adelaide has your options covered. From restaurants. cafes, pubs and clubs to cocktail parties and black tie balls, Adelaide has it all.  Two fabulous Adelaide New Years events are the New Years Eve Gala and the NYE Cocktail Party. Both these events are at the Adelaide Convention Centre.
The New Years Eve Gala is a classic sit down four course dinner and beverage package that includes awesome live entertainment.  This event is excellent for couples or groups of friends that want to celebrate the end of the decade in style.  The NYE Cocktail Party includes grazing canapes all night and a 5 hour drinks package an dance the night away to the live DJ.   Whatever you preference of event come midnight you will be blown away by the spectacular views of the Adelaide NYE Fireworks. See 2020 in with fun and excitement. Bring on NYE!  Checkout all the great NYE Adelaide and surrounds ideas for celebration.