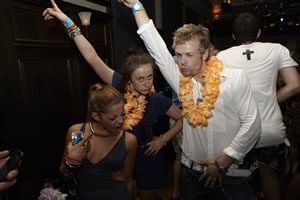 Melbourne will be one of the buzz destinations for New Year's Eve 2017. Seeing out the old year and welcoming in 2018 will never have been as much fun. And with the gorgeous city of Melbourne having fabulous Summers, the end of year December party is long awaited! Oh yep, and with it being a Ashes Test Cricket year, come NYE, our friends at the Barmy Army will also be in town.
It's only June but already the NYE planning is in full swing. Party and dining venues like Bearbrass, P.J. O'Brien's, Hophaus Bier Bar and Grill, European Bier Cafe, The Wharf Hotel, Ludlow Bar and Dining, Temperance, Turf and Hopscotch are on board planning awesome NYE events. As are the promoters of big dance production events like Promiseland and NYE H2oh! Add to that venues that include accommodation like Amora Riverwalk and there really is something for everyone.    See all the fabulous Melbourne New Year's Eve 2017 parties and events as they come online.   And one great NYE tip is to make sure you get in on any early bird offers or group's of friends offers.
The Team at NewYearsEve say
The team at NewYearsEve have said "With June only just beginning there are sure to be loads more NYE events announced for Melbourne as we march forward towards December". And in looking ahead they suggest, "Last year was one of the biggest NYE in Melbourne, but with so much interest already this year it may be that 2017/18 will be bigger!" So there is no doubt it's important to keep an eye on the NYE announcements.