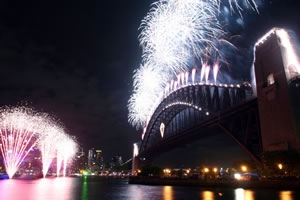 New Year's Eve Sydney is a must do, must see, must be there event. It should be one of those bucket list items! Get ready to celebrate NYE 2017 and welcome in 2018. With the canvas of the waters of the Sydney Harbour and all it's magnificent surrounds the Sydney NYE is recognised as one of the very special New Year's Eve events world wide. And we say Sydney New Year is one of the Eight NYE Wonders of the World.
The city attracts so many international visitors for the 31st December fireworks spectacular that the Sydney City Council has a whole department specialising on the event.  It's a tourism bonanza for the commerce of the town! There is good reason for that Sydney windfall.  Because it has been crafted into one of the best NYE Fireworks display in the world.  Part of that reason is because the fireworks and public entertainment are held over Sydney Harbour and there are so many viewing points.  Whether you are up high, or in a boat on the Harbour or watching from one of the many restaurants and clubs overlooking the Harbour, you should be able to view the midnight fireworks.  And you have to make sure you see ships parade in the Harbour of Lights.
So, you have to go to Sydney New Year's Eve.  Now the question becomes, "Where to go for NYE?".   We believe the major target market demographic for the New Year's Eve experience is a little different than that of other Australian NYE hot spots.  All this entertainment that is put on by the City and is in the centre of everything targets those aged from 8 to 100.  As an example we have found simply there will be more family focused NYE package offers.  Also, there will be more spectacular NYE dining and NYE cruise opportunities than other cities. And generally if they are situated on the Harbour then the viewing will be a spectacle.
Sure there will be New Year's Parties targeting 18 to 28 year old's but there will also be a more diverse range for everyone else.  Hence a fabulous array of New Year's Eve Sydney 2017 events for all to see in the new year of 2018 in style.
One trick to Sydney is that it is going to be busy on NYE, so plan to stay near the event where you are celebrating as traveling to and from could spoil all the fireworks fun.
New Year's Eve Sydney Events, Parties & Cruises
Sydney Harbour Escapes
Tickets Selling Fast

New Year's Eve Cruise Boats on Sydney Harbour
Looking for that perfect New Year's Eve Sydney Cruise? Sydney Harbour Escapes can help you see in the new year with varied NYE options for chartering for your own private party. They have over 60 New Year's Eve boats to choose from. They also cater for smaller groups and individuals with ticketed packages. Tall ships, sailing yachts, motor cruisers, catamarans and luxury super yachts to name a few of the many options. And if you are quick make sure you ask about getting in the Harbour of Light Parade. Make a Booking Enquiry
NYE Concierge Notes: Sydney Harbour Escapes are super to deal with and have a huge offering of options on the water for the New Year's Eve celebrations.
Packages
Ticketed cruises: from $400pp

New Year's Eve Party
Party over 2 levels to see in 2018 at Cargo this New Year's Eve and be entertained by a massive line up of Australian talent and future beats featuring KLP, Miami Horror and more! Grab a General Admission Ticket now or party in style with The Party Package a 3 Hour Canape and Beverage Package with Cocktail on Arrival. Step it up this Sydney New Year's Eve and welcome 2018 right on the Harbour at Cargo.
Packages
GA Tickets: From $49
Party Package: $129
Bungalow 8 & The Loft
Tickets Now on Sale

New Year's Eve Party featuring Havana Brown
It's a New Year's Eve not to be missed at Bungalow 8 with Havana Brown headlining along with Tonite Only and Jesse Bloch. Treat yourself to welcome in 2018 with one of the Premium packages and enjoy VIP access, premium beverages and canapes or go the extra mile with the VIP Balcony Packages. Have a spectacular New Year's Eve down by the Sydney Waterfront at Bungalow 8.
Packages
GA Tickets: From $55
Bungalow8 Package: $125
Loft Package: $190
VIP Packages: From $2500
All Hands Brewing House
Tickets Selling Fast

New Year's Eve at All Hands Brewing House
Bring in the New Year on the shores of Darling Harbour at the family friendly newly renovated All Hands Brewing House and experience the awesome fireworks view. Enjoy the 3 course dinner package in the restaurant or relax in the public bar. Bookings and Pre-Payment required for Dinner Packages. No Cover Charge or Bookings required for Public Bar.
NYE Concierge Notes: Awesome Sydney location right on Darling Harbour and many dining or casual options to suit. Be quick to see in 2018!
Packages
Dining Package:
Adults: $75
Children ( up to 12 yrs): $30
Public Bar: No Cover Charge
Sail Australia
Sydney Harbour
Tickets Now on Sale

Sydney New Year's Eve Cruises
Enjoy the New Year's Eve 2017 Sydney festivities with a cruise on the Harbour. Sail Australia has a huge variety of boats, launches and ships available with varying inclusive packages to suit any budget. Groups on NYE are a specialty for Sail Australia. So make contact to discuss your New Year's experience on Sydney Harbour for this 31st December. And see in 2018 in style!
Packages
Ticketed Cruises: From $175 pp for 9pm cruise
Athol Hall
Tickets Now on Sale

Sydney New Year's Eve Dining
New Year's Eve Sydney 2018 just got a whole lot better. Athol Hall on the Mosman (North) side of the Harbour has been beautifully restored and is ready for a fabulous NYE Dining offering looking out over Sydney Harbour and Sydney's beautiful Bridge. So come and celebrate with friends and family at this awesome venue! See in 2018 in style!
With a private balcony you will have uninterrupted views of the Sydney NYE fireworks show! The NYE Package includes Chef's Canapes on arrival.  Once seated this will be followed by a 4 course degustation dinner with a 5.5 hour premium beverage package and Petit Fours with Tea and Coffee. You and your group will be thoroughly entertained throughout the evening by a DJ before watching the fireworks from the private balcony. Simply fabulous!
NYE Concierge Notes: Awesome location overlooking the Harbour. Be quick to secure your tickets as they are limited.  And WOW what an opportunity to be at the beautiful Athol Hall!  Go on enjoy some of the best on offer.
The Argyle
Hurry Tickets Selling Out

NYE 2017 - Tonight We Party
The Argyle is one of Sydney's premier nightclubs. And this New Year's Eve Sydney will be counting down 2017 with special guest Tigerlily. All the best tracks and awesome party packages. The VIP options offer 3hrs package of drinks and food. Get on it early and Early Bird Tix from $49. But Hurry.
Packages
Early Bird: $49
Second Release: $69
Final Release:$99
VIP: $149
El Camino Cantina
Tickets Now on Sale

New Year's Eve El Camino 2018
Round up your amigos for a loco New Year's Eve Party filled with Tex-Mex favourites, BIG Margaritas, Tequila and Rock n Roll at El Camino Cantina! And roaming food like Tacos and Nachos and more. A cartoonist, photo booth and piñata's. Don your sombrero for a New Year's eve to remember!
NYE Concierge Notes: Located in the Argyle section of The Rocks area. Just moments away from the Sydney NYE fireworks.
Packages
1st Release $99pp
2nd Release $119pp
The Cut Bar & Grill - The Rocks
Make a Booking

NYE at the Cut Bar & Grill
Spend your last moments of the year wining & dining in decadent style at The Cut. Enjoy a mouth-watering 3 course choice menu with glass of Champagne in the heart of the Rocks, moments from the Sydney Harbour Bridge fireworks display. Eat & drink your way into the new year in style! Kids Menu Available with dishes priced at $25.
Packages
3 Course Choice Menu: $135
Kids Menu: $25
Rosetta Ristorante
Make a Booking

NYE Dining Italian Style
Experience New Year's Eve Sydney at one of the premiere Italian Restaurants with a superb menu designed by Neil Perry.  Enjoy a 3 course menu on the night right in the heart of The Rocks and close to the New Year's Eve Fireworks. Great Food, Fantastic Location!
Packages
3 Course Menu: $160
Bavarian Bier Café
Sydney
Make a Booking

Schnappy New Year!
On NYE it's stein raising time to farewell the old year and willkommen in the new year in true Bavarian style! Steins, schnitzels & pork knuckles galore. Plus haus DJs spinning tunes til late and a complimentary glass of bubbles when the clock strikes 12. Full a la carte menu available all night.
Saké - The Rocks
Make a Booking

New Year's Eve Sydney Dining
Ring in the Sydney New Year of 2018 with a contemporary Japanese cuisine offering at Sake The Rocks. It's NYE so why not indulge in an unforgettable a la carte dinner. And you are just moments from the show that is the Harbour fireworks.  As part of the fun Sake will toast out the old year and welcome in a new year with sparkling at midnight.
NYE Concierge Notes: Great food and super NYE location right in the Rocks.
Packages
A la carte menu
$110pp minimum spend for reservations post 8:30pm
Munich Brauhaus - The Rocks
Make a Booking

NYE Haus Party 2018
Sydney's Munich Brauhaus will go off this New Years. The entertainment will be lead by the famous Munich Oom Pah band & haus DJ. And we all know Bavarians do partying better! So come and join the Munich Brauhaus tradition to raise a stein to 2017 and willkommen in 2018. The full Bavarian food menu is available all night with a set menu option for group of 15+. Go on and grab your friends and book now.
NYE Concierge Notes: Fun NYE venue right in the Rocks and close to the fireworks.
Packages
A la carte menu
Set Menu for Groups 15+
Saké - Double Bay
Make a Booking

New Year's Eve Sake Style
Celebrate the New Year in stylish Double Bay and enjoy Saké's contemporary Japanese cuisine. For NYE celebratory drinks there will be a large number of cocktails available plus the extensive Sake wine list. Choose your meal from Sake's full a la carte menu featuring all your favourites. See out the year in dining style!
City Extra

Sydney New Years Eve Dining
City Extra provides fabulous NYE dining and entertainment for the New Year's Eve spectacular.  City Extra is located at Circular Quay and has a sensational Harbour side view looking at the Harbour Bridge.  Normally the City Extra NYE party lasts from 7pm until 1am being 6 hours to take in the City Extra NYE experience. Welcome in the new year with a three course dining experience with drinks to match.
NYE Concierge Notes: Great party location for the Sydney NYE fireworks. In fact a great location for the atmosphere of the whole spectacular New Year's Eve event.  Family friendly with kids welcome too!  Sells out so be quick.
NYE Details: Details expected release date December 2017.
Packages
Options may include

Sydney's NYE Fireworks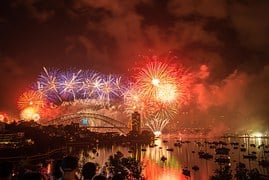 There are three major Sydney light displays that you need to see. So making sure your timing is scheduled and that you have your seat sorted and drink in hand! It's all going to be very spectacular and Sydney is ready!
At 9pm is the New Year's Eve family fireworks display. This lasts about 8 to 10 minutes and will have the young and old ones going wow! Then straight after that is the Parade of Lights where boats are like a cavalcade of floats under the Bridge with spectacular illuminating lights. If you are on the right boat you too can be party of NYE Harbour style!
Then at midnight on the last day of the year, being 31st December, Australia's great city sees out the old year and welcomes in the new one with around 12 minutes of incredible and spectacular fireworks pyrotechnics. These fireworks have all the crowd dazzling with smiles and surprise. That is of course if you are watching and not having a quick kiss to see out the year! Happy New Year!
Do you need to party on or recover on New Year's Day
After NYE 2017 is over the next day is the first of January 2018. Yes that is New Year's Day! You may need to recover after a spectacular New Year's Eve Harbour City style. Or it may be that you and your friends may wish to continue to celebrate. We have ideas on and off the water. For all the good oil on recovery or action for the 1st January check out what's on New Year's Day Sydney.