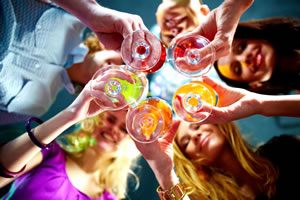 New Year's Eve Hobart style is all about the party on and around the water and the markets. With the Taste festival on and the Sydney to Hobart race crews all in party mode Hobart makes for one sensational location. If you don't know what to do for your New Year's Eve Hobart party celebrations, then we have the ideas and information for the 31st December to assist you in getting the best out of your Apple Isle NYE experience.
The City of Hobart sponsor a massive NYE fireworks display for the people to celebrate the coming of the new year!  They have the Hobart fireworks over Sullivan's Cove along the Derwent River.  So getting to a vantage point or venue and making sure you can view those colourful explosions is paramount to the whole NYE experience.
And many of the yachts from the Sydney to Hobart Yacht race will be docked in Hobart and they too add to the atmosphere. We've got some of the details of the best Hobart NYE ideas.
New Year's Eve Hobart Events and Parties
Hobart Function and Conference Centre
Event Sold Out

New Year's on the Pier
Celebrate New Year's Eve on the Hobart waterfront with the best view of the fireworks in town. Package includes 7 course degustation meal created by Will Godman and Phillip White, drinks included all night and the music of Hobart's favourite band Manhattan (with guest bagpipes)! Great location and great view of the NYE fireworks and fun assured to see in 2018. Right on the pier and venue has great facilities. Accompanied kids under 18 years are welcome at this event.
This event sells out so be quick
Packages
Event Sold Out
Adult Tickets: $185
Child Tickets: $145
St. Albi
Tickets Now on Sale

New Year's Eve Make Merry with ALBI
St Albi is pulling out all the stops to make this 2017 New Year's Eve in Hobart one to remember. Downstairs enjoy a cocktail soiree with substantial canapes and 'A Night at The Round Table' playing records. Upstairs VIP's will enjoy a 5 course sit down dinner with private table and 5 hour drinks package all served by your own private waiter and barman plus access to the downstairs party.
NYE Concierge Notes: Great venue with upstairs VIP mezzanine.
Packages
Make Merry with ALBI: $100
St ALBI Fancy Feast: $350
Things to do on New Year's Day in Hobart
After the party of New Year's Eve in Hobart you may be looking for something to do the next day. It might be a relaxed recovery or a bit more energetic to get the new year started. Whatever it is we hope we can help.
For ideas see New Year's Day Hobart