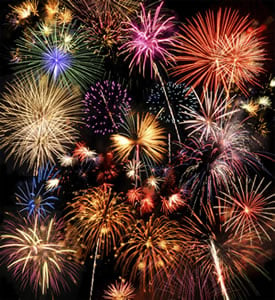 This New Year's Eve Canberra skies will light up with a sensational city funded fireworks display. Canberra is not normally a target destination for the 20 year old traveler on New Year's Eve.  We've spoken to many punters from Canberra and surrounds over the years and generally the local venues sell out with the local population. With a big city NYE party planned Canberra will party celebrating the end of 2016 and the beginning of 2017.
Canberra's population is skewed by the public service employment, and with parliament not sitting over the Christmas New Year holiday period, there are a lot of people not actually in town!  Over the years some NYE promoters have tried to get larger NYE events up and running in Canberra with mixed results. This has a bit to do with who is about! It really is a gorgeous city and easy to get around by car or bus.
A centre piece of NYE in Canberra is the fabulous fireworks launched over Lake Burley Griffin.  There is plenty of lawn and park space for vantage points and there are also a number of venues close by that have advantage for viewing the fireworks.  Are you headed to Canberra for the 31st December celebrations? Or maybe you find yourself there. Then hopefully we can help to make it the most fun NYE that it can be. We've sorted some New Year's Eve Canberra ideas that are worth considering.
New Year's Eve Canberra Events & Parties
Albert Hall

New Year's Eve Masquerade Ball Canberra
An awesome New Years awaits with the Canberra Salon Orchestra at the incredible Albert Hall and watch the 9pm New Years fireworks over Lake Burley Griffin from the terrace. Bring your dancing shoes or relax by securing an allocated table or in the VIP area. This is a Black Tie Masquerade Ball that guarantees lots of fun and a great way to welcome in the new year! We are really very excited by this NYE idea as it is in a great Canberra location with views of the fireworks and is just sounding so cool!
Packages
Details for New Year's Eve 2016 to be confirmed.
The day after Canberra's New Year's Eve party
The first day of the new year comes with new year decisions. Do you want to try and party on or have a recovery session? Or maybe you are not in a position to make decisions. Canberra on NYD may be just the place! Here are ideas for New Year's Day Canberra.