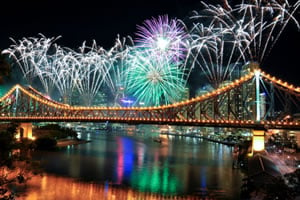 On New Year's Eve Brisbane has city supported NYE festivities that center on the Brisbane River. South Bank is a key area of focus for viewing the NYE fireworks displays along the Brisbane River. Anywhere that can see the city skyline will be okay for viewing the super bright midnight fireworks display. Down in the Fortitude Valley club district the parties will be raging hard as Brisbane sees in the New Year. Come on Brisbane it's time to celebrate the NYE passing of the old year over to the new year!
With many great options and ideas of pubs, clubs, venues and restaurants where you can base yourself to celebrate this NYE with your group of friends.  Brisbane provides for a balance of family focus and New Year party hard areas. There will be something for everyone for your New Year's Eve Brisbane style. In our experience the weather should be terrific. It is Summer time in Queensland, Australia! This warm weather and the attraction of Queensland is also a boom destination for tourists holidaying in Australia over the New Year period.
New Year's Eve Brisbane Events and Parties
Queensland Performing Arts Centre
07 3278 1913

Queensland Pops Orchestra: New Year's Eve Gala with Mirusia
A spectacular orchestral evening with two performances, 6:00pm & 9:30pm. Get sophisticated New Year's Eve Brisbane Black Tie style with a package includes Drinks & Canapes after the 9:30pm performance and an unbeatable view of the fireworks from the QPAC rooftop. Tickets are selling fast. Book now to avoid missing out.
Packages
Black Tie Package: $180
Concert Only Tickets: $98
Group Discounts Available
Sail Australia
Brisbane River
02 4322 8227

New Year's Eve Brisbane Cruises on the Brisbane River
Enjoy the New Year's Eve Brisbane festivities with a cruise on the Brisbane River. Sail Australia has a variety of boats, launches and ships available with varying inclusive packages to suit your new year party needs. Groups are a speciality so contact Sail Australia to discuss your NYE booking.
Packages
2016 NYE Cruise packages coming soon.

NYE Soiree Under the Stars
Byblos is hosting a New Year's Soiree under the stars. Enjoy LIVE music,  entertainment and  fireworks. Tickets include buffet food stations and substantial canapés  plus a 5 1/2 hour premium beverage package with spirits, cocktails and wine included.

The Garden of Good and Evil New Year's Eve
GPO is being transformed into the Garden of Eden this New Year's Eve. Be entertained by roving performers, entertainers and the top DJ's. Be treated to a 4 hour cocktail window with 6 piece canapés menu, basic spirits, beer, wine champagne and soft drinks. There's a 'Good vs Evil' cocktail menu or enjoy a VIP package with premium canapés and top shelf beverages.
Packages
Packages for New Year's Eve 2016 to be confirmed.

New Year's Eve Party
Say goodbye to the old year and welcome in the new year with a night of music at the Orion Hotel. Be entertained past midnight by LIVE band 'A Noble Few' for 3 hours from 9:30pm and then dance through the early hours of the new year with DJ Danizm until 3:30am.
Packages
NYE 2016 event packages details still to come.
Loft West End
07 3846 6680

NYE at Loft West End
Celebrate the coming of the New Year at Loft West End. Be entertained by live music whilst enjoying a fantastic 3 hour beverage and canapé package.
Packages
Details for NYE 2016 coming soon.
The MET Brisbane
07 3257 2557

The MET New Year's Eve – Allday & Camarda
Continuing it's tradition of putting on the biggest New Year's Eve Brisbane parties, The MET is back with some exciting acts to bring on the New Year. Party in the main room with Allday and Carmada or enter the Coco Lounge for Running Touch and Jordan Burns with Mr Sparkles. And Sunny Ho will be rounding out the entertainment in the Bamboo Bar with a whole heap of support acts. VIP NYE Drinks Packages available.
Packages
Package details for New Year's 2016 to be confirmed.
Brewhouse Brisbane
07 3891 1011

Summer Nights Dream New Years Eve Party
This New Year's Eve head to the Brewhouse and enjoy a night of music and games with a DJ from 9pm to 1am and free Pool and Buck Hunter all night. Your NYE passport will include a champagne on arrival plus 5 drinks of your choice throughout the night and a selection of delicious food (until 10pm). Open till 2am.
Packages
NYE package details still to come.
Archive Beer Boutique
07 3844 3419

New Year's Eve Calling
Calling all LIVE music fans, this New Year's Eve Archive will be featuring some great LIVE acts to say farewell to 2015. Be treated to 'Sterling' from 8pm to 11pm and then be entertained into the New Year by 'Not a Lemur' from 11pm to 2am. Best of all entry is free.
Packages
Details of 2016 New Year's Eve Packages to be confirmed.
What can you do on New Year's Day in Brisbane
Do you wish to party on in Brisbane for NYD or do you want to take a day or two of the new year to recover. Venues are open and are ready to assist with breakfast, lunch and a recovery dinner to get you going into the new year the right way! New Year's Day is certainly another one of the Big Days in the Australian calendar. Don't miss it people. See what is on in Brisbane on NYD! Welcome to the New Year Brisbane!