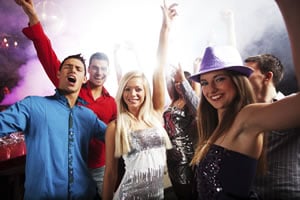 New Years Eve Adelaide style is full of festivities and council supported fireworks. Adelaide has been known in Australia as the city of churches given it's impressive church buildings. So this could be seen as a contrast with the hedonism of some peoples NYE anticipations. What happens in Adelaide for New Year's Eve?
Well wait up people, this city could just be a New Years Eve party hidden gem!  With the Adelaide City Council supporting a NYE fireworks display over the River Torrens and so much parklands.  For those that caught SummaDayze NYE in Adelaide before it's demise, you will know that this little city can party like the big ones! And if you get down to the suburbs of Glenelg the NYE party continues beach style.
There is an array of Adelaide New Years events that cater for all age groups and budgets.  We've got a selection of great NYE events to assist your NYE planning in Adelaide. It's a hidden gem on the Australian NYE city scene!
New Years Eve Adelaide Events and Party Ideas
P.J. O'Brien's Irish Pub
08 8232 5111

New Year's Eve Madhatter Party 2015
This New Year's Eve travel to Wonderland at P.J's in Adelaide. Enjoy $7 Cocktails, LIVE band "Gatecrashers", Party DJ and prizes for best. Go a little bit Mad this New Year's Eve at P.J. O'Brien's.
Packages
Cover Charge: Free
The Stag Hotel
08 8311 0392

NYE Masquerade Party 2015
Be treated to a night of glamour and excitement whilst you unmask the fun this New Year's Eve in Adelaide at the superb Stag Hotel. Enjoy canapés and a drink on arrival with LIVE music for entertainment. This masquerade party is not to be missed! Lookout New Years Eve Adelaide Stag style
Packages
General Admission: $35
Adelaide Fireworks
The city council supported fireworks festivities will centre around Elder Park. The heritage music Rotunda will be the centre piece. There should be family friendly fireworks around 8.50pm and then the midnight fireworks show to bring in the new year.
New Years Eve recovery equals New Years Day
What will you be doing on the first day of the new year after a super NYE. If you need some ideas then checkout the options for New Years Day in Adelaide.