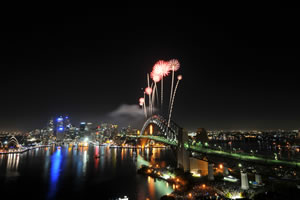 What are you going to be doing this New Year's Eve 2016 to see in the new year of 2017? That's right, the last evening of the year is coming fast. New Year's Eve is such a special day. We have it as one of the Big Days of the year. On NYE, all around Australia, events and parties are planned to celebrate the seeing out of the old year. Some of the best NYE fireworks events and parties from around the world are held right here in Australia. Planning is underway for the lead up to 31st December 2016 as we all get ready to welcome in 2017.
New Year's Eve celebrations occur in summer time in Australia. So, for the most part, the outdoor NYE fireworks are held on evenings with great weather.  Add to that the spectacular Australian city backdrops for the NYE Fireworks displays and the 31st December is something special.  These city events attract large crowds with fabulous party atmosphere and many international travelers come to Australia for that excitement.
New Year's Eve Sydney

Sydney is one of the New Year's Eve wonders of the world. The spectacular Sydney Harbour is an amazing amphitheatre with most of the NYE fireworks displays starting on the Harbour or the Sydney Harbour Bridge.  So then the views are spectacular from all around the Harbour edge and even tall buildings within the city. There are lots of party and event choices in Sydney and cruises are just a natural for this wonderful event.   Sydney New Year's Eve has to be on the bucket list!    Ideas for NYE in Sydney.

New Year's Eve Melbourne

Melbourne is Australia's second largest city.  It is a fantastic city. Vibrant and alive, and New Years Eve is done so well in Melbourne.  Being summer the parks and gardens look marvelous and with NYE fireworks over the Yarra River and the city buildings all the way to the water of Docklands, it's just made for one big spectacular party.  There are plenty of event venues with great views of the fireworks all over town and even cruises in docklands and on the Yarra River.   Melbourne NYE Ideas and Events.

New Year's Eve Brisbane

Brisbane is one of Australia's northern most major capital cities and being part of Queensland in summer time it just adds up that New Year's Eve will be celebrated outside with lots of sensational NYE Fireworks over the Southbank and Brisbane River areas. Fabulous comfortable weather should be the order of the night on the 31st December if all goes to plan. Then there are lots of great venues and events in Brisbane to see out 2016 and bring in 2017 in Queensland.  What's on in Brisbane for NYE?

New Year's Eve Perth

Perth lights up for the New Year's Eve celebrations on the 31st December and great options for being outdoors or al fresco with events in the city and burbs and down by the Swan River.  We think of Perth as being one of Australia's younger cities and hence the fun and enthusiasm is alive!  New Year's Eve parties are well attended in Perth and some of the best parties we've seen sell out early so very important to get in early!   What's on in Perth this NYE?

New Year's Eve Hobart

Hobart is one of the bigger growth cities for NYE. With the Sydney to Hobart yacht crew all in the harbour after their race the beautiful Sullivan's Cove and Derwent River are alive with activity. Taste what Hobart has to offer this NYE. Hobart NYE ideas.

New Year's Eve Adelaide

Adelaide is one of those quiet achievers for New Years. The parklands and Torrens river serve as a centre backdrop to spectacular fireworks. What's on in Adelaide this NYE?

New Year's Eve Gold Coast

It's golden sunshine on the Gold Coast of Australia for NYE. The Gold Coast is portrayed as fresh and energetic and this is represented in the fabulous New Year's Eve party options.Details of Gold Coast New Year's events.

New Year's Eve Canberra

Canberra is the national capital of Australia and the canvas of Lake Burley Griffin is awesome for the midnight NYE fireworks. Enjoy what Canberra has to offer this 31st December. Ideas for Canberra this NYE.

New Year's Eve Darwin

Don't forget Darwin for NYE this year peoples. The venues and council in the top end Harbour area of Darwin are planning super fireworks displays over the water, and let's face it, the temperature and Northern Territory people are awesome. Details of Darwin NYE.
Big Days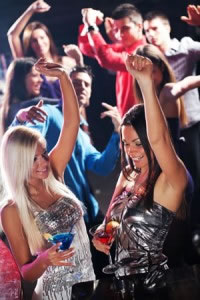 Certainly YES, it is time to plan your New Year's Eve to make sure you see in the new year in style. NYE is probably the biggest of all the Big Days party events. We have been covering New Year's Eve in Australia since 1998. That's right, yes we saw in the millennium for year 2000 and over the years we've watched fabulous New Years events and parties grow with great people running them. And NewYearsEve is a trusted source of what is out and about this NYE. Whether it is themed parties like Masquerade, 80's or 90's or Naughties, Beach parties, Glitter, MadMen and other fun ideas. Or it could be a type of NYE party like Cocktail or Dinner setting or inclusive packaged drinks.
So you can see along the way we've seen a fair bit. We also decided to use that NYE experience to help cover some of the other Big Days through the year. So now NYE and NewYearsEve are more, they are a part of the Big Days. This is where we put to use all the experience we have of nearly 20 years to more days and nights thru the year. Make sure you checkout About Us for all details on NYE and other Big Days through the year.