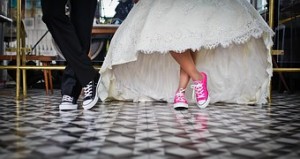 New Year's Eve weddings should be the ultimate party for family and friends. Think about it! NYE can be all about sharing that special moment of entering the new year with your friends and family. And in a similar sense, every couple wants to share one of the most special days in two lovers lives with their closest family and friends, their wedding! Champagne corks popping, great food, dancing and fireworks going off!
You'd be forgiven for getting NYE confused with wedding celebrations. But not every couple can do a NYE wedding. And that is because New Year's Eve is only one day of the year. Not every venue will be available for a NYE Wedding. And if you are going to get hitched on the 31st December, you really want a reception venue where you can take in some of the NYE atmosphere, including a peek at the midnight New Year's fireworks.
Yes, NYE can be one of the really Big Days of the year for weddings. And we all agree there is no Bigger Day than a Wedding Day. We've asked our venues around Australia if they would have room to make a special couples dreams come true to accommodate plans for New Year's Eve weddings. And here is some of the fabulous restaurants, party venues and reception centres around Australia that will be happy to welcome in the new year with "I do"!
Venue ideas for New Year's Eve Weddings
A NYE wedding is a sensational way to say hello to the new year and a new life. December 31st is Summer in Australia and it's absolutely a gorgeous time to have wedding bells ringing with fireworks splashing across the new year night sky!
New Year's Eve Weddings Sydney
See other Sydney NYE options
New Year's Eve Weddings Melbourne
See other Melbourne NYE options
New Year's Eve Weddings Perth
See other Perth NYE options
And let's chink glasses to happy endings. If you roll forward to the anniversary years ahead, NYE will be a very special date in everyone's lives as they link the fun of your wedding and you as a couple to one of the biggest party events of the year.